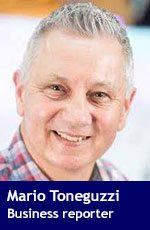 It isn't a huge shift for the Calgary downtown office market but at least it's a positive one.
A report released today by commercial real estate firm Avison Young says the downtown market began to rise from its bottom in the third quarter as vacancy decreased due to a combination of strong leasing activity, the withdrawal of some larger sublease availabilities from the market, and the removal of two buildings from inventory due to redevelopment.
In the second quarter, the market reached its highest vacancy rate in recent history for a major North American metropolitan market at 26.4 per cent. It decreased to 25.7 per cent in the third quarter and Avison Young says it is not forecasted to rise above this peak in the foreseeable future.
Todd Throndson, Avison Young Principal and Managing Director of the company's Calgary office, says absorption will be flat for the remainder of 2017 and the first half of 2018, with 100,000 square feet of positive absorption in each of the third and fourth quarters of 2018. Absorption would then rise to 150,000 square feet per quarter in 2019 and beyond.
Absorption, defined as the net change in occupied office space during a given period of time, was positive 162,000 square feet in the third quarter. Year-to-date, it's a positive 98,000 square feet.
This figure is a noticeable improvement compared with the negative 3.1 million square feet of absorption recorded in 2015 and the negative 2.2 million square feet of absorption registered in 2016, says the report.
"Economic downturns often spur innovation and creativity," says Throndson. "As Calgary emerges from three years of recession, new attitudes and approaches to the established commercial real estate market are being unveiled.
"Many landlords are considering what alternatives are available for their older, less desirable office properties. While office-to-residential conversion has been looked into for several properties, Artis REIT is the first landlord to announce that it has found this concept to be viable for one of its Calgary properties – Sierra Place. A development permit has been filed to convert the building into a 72-suite residential rental building. It is believed that this will be the first of many buildings to undergo such a conversion."
Avison Young says current rental rates in the downtown Calgary office market are down 20 per cent to 60 per cent from two years ago, depending on the market segment.