Dr. Kristina Zakhary is a facial surgeon in Calgary.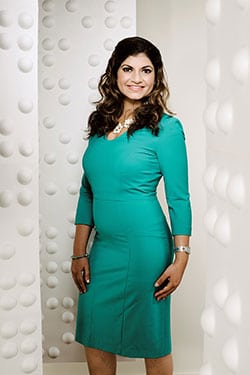 Calgary's Business: How and why did you decide to go into facial and reconstructive surgery as a career?
Zakhary: I have always had a strong desire to pursue a career that allows me to help others. As I progressed through my schooling, I was drawn to the medical field, specifically otolaryngology – head and neck surgery, and then expanded to a special focus on facial plastic and reconstructive surgery.
My field is extremely focused, and because of that I am able to really use my expertise and keep up-to-date on emerging facial cosmetic surgery trends. My goal is to help harmonize how people feel on the inside with how they look on the outside and I take great pride in knowing that my patients trust me to help them realize their visions for themselves.
CB: What are some of the trends you're seeing in the field today from patients?
Zakhary: In general, with advances in surgical techniques, there has been an overall trend towards seeking a more subtle, natural, refreshed and youthful appearance. In addition, accessibility to facial plastic surgery has never been easier or more well-accepted.
Specifically, the nature of nose jobs is changing noticeably. The new nose job is no longer about achieving perfection. Patients want to maintain their individuality and their unique look. Historically, rhinoplasty has been a procedure intended to correct so-called 'imperfections' in order to meet a one-size-fits-all, Eurocentric standard of beauty that typically considered narrower and up-turned noses to be the ideal. As the globalization of modern society has changed our perceptions of beauty, and as our plastic surgery techniques have become increasingly creative, plastic surgeons are seeing a rise in patients who aren't seeking the procedures of the past. The trend is about moving more towards individualized noses and away from cookie-cutter looks, because patients are embracing individuality. The bottom line is that there is no one-size-fits-all definition of the perfect nose job.
CB: What were your biggest challenges as an entrepreneur in Calgary?
Zakhary: Like many entrepreneurs, I have made my work my passion. I am very dedicated to my patients and to the success of my practice. Due to this, I find I sometimes forgo personal priorities in favour of putting my patients and my practice first.
As is the case for many entrepreneurs, maintaining a strong work-life balance can be challenging, so I actively invest time and effort into adequately taking care of my own and my family's well-being. Investing in myself and my family provides a state of calmness that sees me through any potential work challenges and allows me to focus on both the health of my practice as well as my personal well-being.
CB: How has the economic slowdown in the past few years impacted your business?
Zakhary: I always strive to provide excellent customer service and surgical results, which creates positive memories for my patients and encourages patient loyalty and satisfaction. In my experience, patient confidence has continued to be high, which may indicate that Alberta remains strong economically, despite the economic slowdown in the past few years. I am pleased to say that the general health of my practice has remained strong despite fluctuations in the economy.
CB: How have you dealt with operating in a male-dominated profession?
Zakhary: I have never focused on being one of the few women in a male-dominated profession. Instead, I have always concentrated on consistently making myself an expert in my field. I do this by holding myself to a higher standard of excellence and putting in the effort and hours that make a difference in achieving the best result and best experience for my patients.
I also know that success requires a commitment to continual learning and personal growth, and so I consistently increase my knowledge in the field by reading and writing relevant medical journal articles, as well as routinely attending and presenting at national and international facial plastic and reconstructive surgery gatherings.
– Mario Toneguzzi
---

The views, opinions and positions expressed by columnists and contributors are the author's alone. They do not inherently or expressly reflect the views, opinions and/or positions of our publication.