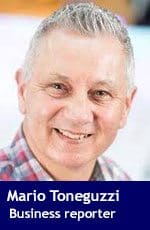 Calgary's suburban office market saw its vacancy rate hit an historical high during the second quarter of this year as the effects of the recession linger.
A report by commercial real estate firm CBRE said overall vacancy in the suburban market was 23.2 per cent in the quarter.
"Mergers and consolidation activity, primarily from engineering, procurement and construction companies, contributed to this rise," said the report.
It said the market experienced negative absorption of 85,568 square feet in the quarter, with the Beltline neighbourhood taking the biggest hit at negative absorption of 181,708 square feet. Absorption measures the change in occupied space.
"Given the current market conditions, building values have decreased, providing an opportunity for tenants to become owner/users. While appealing to consider, the opportunity may prove limited as there are not a lot of smaller buildings available for sale," said CBRE.
In the quarter, overall net rental rates dropped to $15.62 a square foot from $15.72 a square foot in the previous quarter. Rental rates are down 29 per cent from peak levels in the fourth quarter of 2014.
The amount of sublease space continues to diminish in the market. According to CBRE, it represented 21.4 per cent of the overall vacancy in the second quarter. That was down from 31.4 per cent in the second quarter of 2017. But it said 621,884 square feet of that sublease space is expected to roll into headlease vacancy and back into the leasing responsibility of landlords at the end of 2020.
"In order to mitigate risk from competition in the market, landlords are approaching larger tenancies well in advance of lease expiries. The desire to reduce the risk of tenants relocating is outweighing the potential opportunity cost of the market improving closer to lease expiries. This trend has been ongoing in the downtown core and is now spilling over into the Beltline and suburban office markets," said the report.
In the second quarter, only 218,855 square feet of new supply was added to the market. And for the first time since 1996, there's no significant product under construction in the suburban office market. That's for buildings of more than 20,000 square feet.
"The lapse in new construction starts at a time when the market is experiencing its highest historical vacancy," said CBRE. "The ongoing soft market conditions and now record high vacancy is expected to continue to anchor the suburban market while maintaining favourable market conditions for tenants."
Respected business writer Mario Toneguzzi is a veteran Calgary-based journalist who worked for 35 years for the Calgary Herald in various capacities, including 12 years as a senior business writer.
---

The views, opinions and positions expressed by columnists and contributors are the author's alone. They do not inherently or expressly reflect the views, opinions and/or positions of our publication.
Calgary's Business is a Troy Media Digital Solutions Associate website